Peep No More Products
The Peep No More restroom stall occupancy indicator signs are intended to enhance privacy and efficiency for all users of public restroom facilities and make these facilities more user-friendly thereby enhancing the "customer/visitor experience". It is an indicator sign to clearly show whether public restroom stalls are occupied or vacant. The patented and inexpensive Peep No More device is hands-free, maintenance-free and can be easily installed by your own staff on all existing restroom stalls.
Peep No More restroom stall occupancy indicator signs are constructed with PC/ABS for long lasting performance and durability. The heavy gauge stainless steel mounting plate provides additional strength and support. The signs are mounted with stainless steel tamper proof bolts.
Peep No More is made in the USA!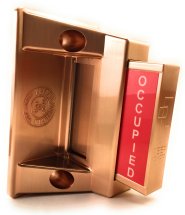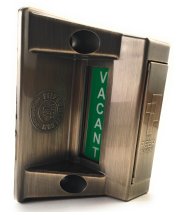 Warranty
Peep No More
2018-01-05T17:04:13+00:00
30-Day Money-Back Guarantee
We want you to be fully satisfied with every item that you purchase from SJM Products, LLC. If you are not satisfied with an item that you have purchased, you may return the item within 30 days of delivery for a full refund of the purchase price, minus the shipping, handling or other additional charges.
The item must be returned in good condition, in original boxes, and with all paperwork, parts and accessories to ensure full credit. Please see our Return Rules and Restrictions before returning your item.
Warranty Rules & Regulations
Except where prohibited by law, the implied warranties of merchantability and fitness for a particular purpose are specifically disclaimed: (1) for all 'as is' sales; and (2) upon the later to occur of: [A] the expiration of any applicable express warranties, or [B] 3 years from the date of purchase.
SJM Products, LLC is not liable for any loss or damage (including indirect, special, incidental or consequential damages), caused directly or indirectly by the products listed on this receipt. Some states do not allow limitations on implied warranties (such as warranties of merchantability or fitness for a particular purpose), or the exclusion of incidental or consequential damages, so the above limitations or exclusions may not apply to you. In addition, you may have other rights which vary from state to state.
Products which have been subject to vandalism, misuse, neglect, accident or modification, or which have been soldered or altered during assembly and are not capable of being tested are excluded from any warranty by SJM Products, LLC.
Product Warranties
SJM Products, LLC provides a 365-Day Limited Warranty on its products.
A defective item may be repaired or replaced within 365 days of purchase under SJM Products, LLC 12-Month Limited Warranty Policy, or within the manufacturer's warranty period, whichever is longer. Contact a Customer Care Representative at 1-775-853-0211 for assistance.
Return Rules and Restrictions
Items must be returned within 30 days of delivery.
You must include the return portion of the original packing slip. Be certain to save copies for your records. If you no longer have the packing slip, follow these steps.
Shipping and handling costs and other additional charges are non-refundable.
We will not accept CODs or third party billing for returned merchandise.
If there is extensive damage to an item upon delivery, call a Customer Care Representative immediately at 1-775-853-0211.
You can expect a refund in the same form of payment originally used for purchase within 10-15 days of our receiving your returned product.
Shipping
Peep No More
2017-12-19T22:18:18+00:00
SJM Products, LLC Shipping Policy
United States (48 contiguous United States)
We strive to get your products to you as quickly as possible. Most orders are shipped the next business day after they are placed.
Shipping Procedures
Shipping Confirmation Emails
We will send you a shipping confirmation email when all or part of your order is shipped. The email will include the tracking number. You will be sent a shipping confirmation email with a tracking number for every shipment.
Shipping in Multiple Packages
If your order includes several items they may ship separately and at different times so that we can deliver your purchases to you as efficiently as possible. Our shipping confirmation emails will let you know how much of your order has shipped.
Delivering Your Package
We process, ship, and deliver packages Monday through Friday. At this time we do not offer express shipping as well as shipping and delivery on Saturday, Sunday or holidays. Your order may be delayed if your shipping address is different from your billing address (we use this additional time to help ensure the security of your credit information). Most items are available to ship in 1-2 business days unless otherwise noted.